Kakusei meza me no, setsuna toki---.
This event is now over.
Please note that information about this article will solely focus on information involving MUSECA only. Please refer to External Links if you are looking for information involving the other games.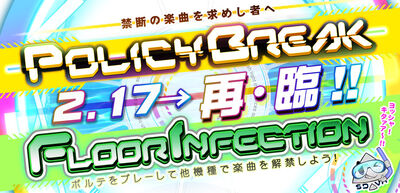 POLICY BREAK is a crossover event from Sound Voltex that allows players to unlock songs for Sound Voltex from other Konami arcade games.
In MUSECA, there is two songs that can be unlocked for Sound Voltex.
Event Mechanics
Edit
Players need to play a Konami arcade game (in this case, MUSECA) a number of times to increase the POLICY BREAK energy of the related game in Sound Voltex. POLICY BREAK is accessible in the Sound Voltex Station which is the last menu of every game played in Sound Voltex.
Once players access the POLICY BREAK menu, players need to select the POLICY BREAK they want to allocate the energy they have collected from the other Konami arcade game. This step is repeated until the POLICY BREAK gauge reaches 100%. The song featured from the other Konami game will now be available for play in Sound Voltex.
It possible to allocate enough POLICY BREAK energy from MUSECA and unlock the POLICY BREAK song in one Sound Voltex play session by playing MUSECA 8 times before playing Sound Voltex to allocate the POLICY BREAK energy.
Event Rewards
Edit
Jacket
Song
Artist
POLICY BREAK

Virtual Bit
KAN TAKAHIKO
半分機械なんじゃないかなぁ
(Hanbun kikainan janai ka naa)

If
Pa's Lam System
不確かな今の、もしもの話。
(Futashi kana ima no, moshimo no hanashi.)
External links
Edit