Kakusei meza me no, setsuna toki---.
This event is now over.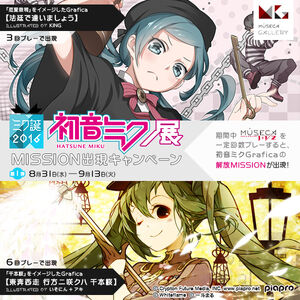 The Hatsune Miku Exhibition is MUSECA Gallery event showcasing two songs featuring VOCALOID Hatsune Miku, as well as two matching graficas based on the jacket illustrations of the featured songs. The event started on August 31, 2016 and has ended on September 13, 2016.[1]
Event Mechanics
Edit
Players simply have to play MUSECA a set number of times to unlock 2 grafica missions based on the jacket illustrations from the featured songs. Playing a game means playing a full game from beginning until the end during the event period.
You will given a progress report after your game to keep track of many times you need to play to unlock content, as well as a congratulatory screen for unlocking content.
Event Rewards
Edit
This unlocks the mission to restore the grafica, not the grafica itself.
This marks the first time that Hatsune Miku (especially her illustrations) officially appears in a BEMANI game.
Senbonzakura and it's matching grafica (mission) is not available in the South Korean version of MUSECA to unlock.
References
Edit