Kakusei meza me no, setsuna toki---.
This event is now over.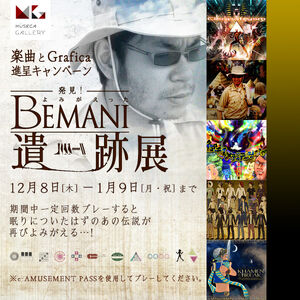 The 発見!よみがえったBEMANI遺跡 (Hakken! Yomigaetta BEMANI iseki) Exhibition is an event showcasing three songs from the aforementioned event that premiered last July 24, 2014; as well as graficas based on the theme of the event. The event started on December 8, 2016 and will end on January 9, 2017.[1]
If players have completed the Coconatsu Exhibition event before this event's launch date, players will be able to start this event on it's launch date.
Event Mechanics
Edit
Players simply have to play MUSECA a set number of times to unlock 3 songs, as well as 2 graficas based on the Egyptian ruins theme of the event. Playing a game means playing a full game from beginning until the end during the event period.
You will given a progress report after your game to keep track of many times you need to play to unlock content, as well as a congratulatory screen for unlocking content.
Event Rewards
Edit
This event is based on the event of the same name that premiered on July 24, 2014.

The event involved "building" pyramids by playing BEMANI games to unlock content, while some games only provide progress boosts.
References
Edit